History
---
The University of Chicago Folklore Society formed in the early 1950s and put on its first Folk Festival in 1961. Featuring such greats as Ralph and Carter Stanley, The New Lost City Ramblers, Elizabeth Cotton, Roscoe Holcomb and Willie Dixon. The Festival was a huge success, and over the next decade, exposed many great traditional musicians to a much wider audience. Legends such as Bill Monroe and the Blue Grass Boys, Frank Profitt, Hobart Smith, The Staples Singers, Nathan Abshire, Dewey Balfa, Doc Watson, Clarence "Tom" Ashley, Muddy Waters and Little Walter, and many more graced the Mandel Hall stage in the early years. It is no exaggeration to say that the U of C Folk Fest had a lasting impact on the national folk music scene.
The Festival has been held every Winter since 1961, and we will be celebrating our 60th festival from February 14–15th, 2020. Through the years, we've maintained our commitment to bringing the University and surrounding community the very best in traditional music from around the country and around the world. We are also committed to providing free and fun workshops for everyone, during the day on the Saturday and Sunday of the festival.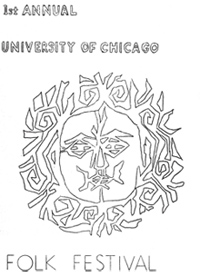 As we prepare for our 60th festival, check back here for some documents from our archives to get an inside look at how the early years of the festival took shape. If you were at any of the early festivals and have any memories you'd like to share as we prepare for our big anniversary, let us know by e-mailing us.